Welcome to MiraGrant.com, the home of science fiction author Mira Grant. If you want to survive the inevitable zombie apocalypse, you've come to the right place. If, on the other hand, you look eagerly forward to dying messily at the hands of the living dead, well…I'm afraid that I can't help you very much with that, but I'd prefer you not do it in my living room.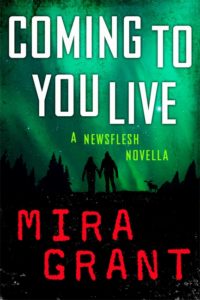 Shaun and Georgia Mason got out. That's the story people tell, anyway. They told the truth and they lived happily ever after, somewhere in the wilds of Canada. But running away is complicated, and when circumstances face them to return to what they left behind, they'll have to face the consequences of their own actions . . . and the actions of others.
Purchase it today in ebook!
Purchase in the US: Amazon | Barnes & Noble | Books-A-Million | Google Play | iBooks | Kobo | Chapters
Purchase in the UK:Amazon | Google Play | iTunes | Kobo | More Stores